Home
Talk

4
310pages on
this wiki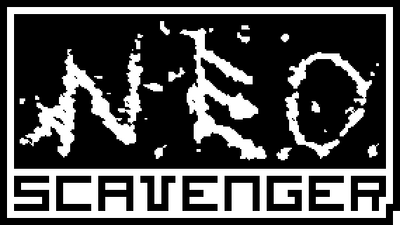 Welcome to the NEO Scavenger Wiki
Edit
Making your first journey into the game? This wiki can be your best reference in the early-going. Please be advised, though, that our editors are currently checking every page for accuracy and completeness. Since the official launch of version 1.0 on December 15, 2014, there is much here that is based on prior (beta) versions of the game, which needs to be updated. We appreciate your understanding during this busy time.
As a result, we need people who can contribute to continue to make this wiki the definitive resource for the game that is NEO Scavenger! Play the game; enjoy it; bring your knowledge to the wiki! We do strongly request that editors register and sign-in when editing. It will help everyone here get to know the contributors, and help foster the positive social and creative atmosphere that makes a wiki great! Just be sure to observe common-sense wiki practices (such as not adding everything to this home page.) There are also wikis in German, Russian and Czech; all in need of contributors. They can be found through the links at the bottom of the page.
If you have a specific question about the game, please visit the official forums for assistance.
A note about spoilers: 
Edit
First-time visitors should be aware that this wiki contains many possible spoilers. Most of them will be marked with either a blue banner at the top of the page, or will be concealed inside blue spoiler buttons (requiring a click to reveal.) There are some presently unmarked spoilers, due to the vast number of contributors to the wiki. Editors are in the process of marking these as they are found during the current updates taking place.
Please report any unmarked spoiler info to either Kaaven or Entharion and we will correct the issue. (Or simply make the correction if you are comfortable doing so.)
NEO Scavenger has a manual! It's basically a compilation of wiki pages about game mechanics, so wiki readers won't find anything new in there, but it's a good source for all new players, since it has all information about gameplay in one place and doesn't contain any spoilers. February 25, 2014
The game has officially launched with version 1.0! Check the website for details. December 15, 2014.
NEO Scavenger
is a hex- and turn-based RPG wasteland survival game. A free demo as well as the current beta version can be found at the
developer website
, on
Desura
, or on
Steam
. However, the special editions of the game are only available at the dev website. Buying the beta also includes access to the full game once it is finished. The learning curve is steep, but enjoyable for many.
The Details
Edit
The game consists of a hex map and a turn-based movement and combat system. Choose your own adventure style menu where your skills and items come into play resulting in different outcomes. Scavenging for loot while keeping your character fed, hydrated and warm can be quite a task. Recipes for new items can be discovered in game or by using a no-penalty system of combinations. Characters are based on abilities and disabilities selected at the start of the game. These abilities can be used in encounters or even in item crafting.
Helpful Pages
Edit