Dogman Fur Coat


Stats
Value (at 100%):
$225.00
Weight:
2.00 kg
Stack Size:
1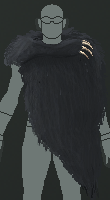 A dogman fur coat is basically a pelt taken from killed dogmen and worn like an overcoat. It fits the "Tunic / Coat" slot on the torso and covers all other clothing underneath.
Moderate / low damage protection (?)
Very effective at protecting characters from low temperatures. In fact, just wearing the coat is enough to keep the character from Hypothermia.
Lowers morale of intelligent opponents, making them more likely to escape or surrender.
Obtaining this item
Edit
The coat can only be obtained by skinning a Dogman with Trapping skill.
Meat and Hide from Dogman Corpse
(8 Small and 7 Medium Chunks of Meat, 1 Dogman Fur Coat)

1.00
Properties and recipe uses
Edit
Kindling:

Medium Campfire (lit) (1)
Small Campfire (friction) (1)
Small Campfire (lit) (1)
Ad blocker interference detected!
Wikia is a free-to-use site that makes money from advertising. We have a modified experience for viewers using ad blockers

Wikia is not accessible if you've made further modifications. Remove the custom ad blocker rule(s) and the page will load as expected.